The forum pages are fully operational! See this link for the latest forum topics, where users can collaborate or discuss certain topics in one place!
Kate Read
From Arthur Wiki
Jump to navigation
Jump to search
Kate Read is the one year-old baby of Jane Read and David Read and the younger sister of Arthur Read and D.W. Read.
History
[
edit
]
Early life
[
edit
]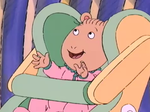 Kate was first seen as a newborn in "Arthur's Baby" and "D.W.'s Baby".
Season 1
[
edit
]
On her first birthday, Kate puts her face in her birthday cake.[7]
Growing Up and Future Life
[
edit
]
First revealed in "Paradise Lost", Kate is getting older and becoming less able to talk to Pal and other pets and more able to talk to other anthropomorphic animals. "Mei Lin Takes a Stand" also shows she is able to walk short distances.
During Arthur's dream in "D.W. and the Beastly Birthday", Kate is shown at approximately age 5. She wears D.W.'s hand-me-downs, including her iconic pink jumper. She has fuller, red hair now, in the same style as when she was an infant, with a bow pulled up at the top of her head. D.W. calls her by her new nickname "Katie Bug".
In the book Arthur's Reading Trick, written and illustrated by series creator Marc Brown, she is able recognize several objects by sight and say the words for them, such as "ball" and "diaper."
Physical appearance
[
edit
]
Kate is an aardvark like her parents and siblings. She wears a pink shirt, green pajama pants, white disposable diapers, and a light green bow with a hairclip on her hair. Her swimwear is swim diapers that are about the same color as regular ones, a red bathing shirt, and a white bathing cap with red polka dots. When she was a newborn, she was wearing pink footsie pajamas with green accents. She also has a pacifier in her mouth; but since she became a 1 year old, she has rarely had one. An early Kate can be seen in "Arthur's Baby" and "D.W.'s Baby".
Personality
[
edit
]
Kate is able to communicate with Pal, Mei Lin, and other animals, toys, or babies. Anybody who is older than her and can speak English dismisses it as "baby talk" gibberish, and she and the animals interpret grownups' talk likewise. She enjoys playing in her sandbox and shows remarkable intelligence for her age, despite not being able to communicate with people older than herself. But in one episode she couldn't hear Pal correctly at times. Despite being a year old, she rarely stands up. On certain occasions, she is prone to crying. At one point, she threw a tantrum over wanting a balloon, and Pal ran off and brought her back one in order to cheer her up.
She can talk, but only to animals, toys, and other babies (similar to Rugrats). She also talks to the viewers when she's featured in an episode's intro.
She can say "D.W." by copying D.W.'s lip movements, but she says "D Double woo".[8]
On her Trading Card, her age is listed as "cute," even though she is one year old.
In material related to the series, she is commonly listed as "Baby Kate." This name is also used in "Buster's Second Chance" and "Mr. Ratburn and the Special Someone."
In "The Secret Life of Dogs and Babies," it revealed that she wants to go to Paris someday.
Appearances
[
edit
]
Gallery
[
edit
]
References
[
edit
]