The forum pages are fully operational! See this link for the latest forum topics, where users can collaborate or discuss certain topics in one place!
Arthur: The Complete Series 1
From Arthur Wiki
Jump to navigation
Jump to search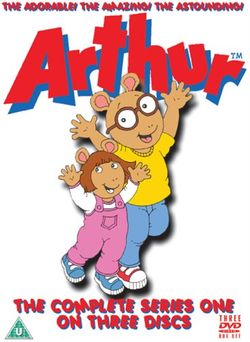 Arthur: The Complete Series 1 is a 3-disc DVD set available in Europe and released by Delta Leisure Group PLC. It contains all the episodes from season 1 of Arthur. The next collection, Arthur: The Complete Series Two, is actually just the first ten episodes of season 2. While this isn't the last set to contain an entire season, it is the only one to have the right number to it, due to season two being split into two sets and being called two different seasons making their releases of season sets look longer than they really are.
Episodes
Disc 1
Disc 2
Disc 3
External links