The forum pages are fully operational! See this link for the latest forum topics, where users can collaborate or discuss certain topics in one place!
Helen
From Arthur Wiki
Jump to navigation
Jump to search
The name of this article was obtained from production material.

While the name is technically official, a future episode can give the character a new name, which will then become the official name.
Helen

Grade
4th
Gender
Female
Animal
Cat

Hair color
Dark brown (s1-s15)
Dark red (s18-s20)
Complexion
Brown (s1-s15)
Pink (s18-s20)

Cartoon debut
"Arthur's Eyes"
Helen[1][2] is a fourth grader who made her debut in the episode "Arthur's Eyes". She has always been seen in the background in most of the episodes.
While she has not been heard speaking, she has been seen speaking to other characters in the background of a number of episodes. She appears to be nice to all the other kids at school.
She is also seen in other places around Elwood City like the library and ice cream shop. Most of the time when she appears she's often with her best friend, Nancy.
Physical appearance
[
edit
]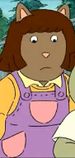 Helen is a cat with brown skin. She wears a cream colored collared shirt, yellow sweater with long sleeves over her cream colored shirt, purple overalls with pink pockets, long pink socks, and pink and white sneakers.
She has dark brown hair in a bob cut. She use to wear a yellow backpack or green backpack. Later on in the series she was seen with a blue colored backpack. Helen also wears an orange sweater with a yellow "P" on it.
She's been seen wearing yellow, green, and blue colored backpacks in other episodes. When she was in kindergarten she wore a sweater with sleeves and buttons, a gray dress, and white Mary Jane type shoes.
In the episode "Arthur and the Real Mr. Ratburn" she wore a beige shirt, pink shorts, long white socks, and pink and white sneakers during the basketball game.
She was seen wearing the same clothes during the puppet show later on in the same episode. In the episode, "Love Notes for Muffy" she is seen wearing pink shorts and a light pink shirt.
After Season 15, she now has auburn hair. She wears a pink shirt with long sleeves and blue overalls with pockets over her shirt. She also wears green and white sneakers. Her skin complexion is now pink.
Appearances
[
edit
]
Specials
Season 1
Season 2
Season 3
Season 4
Season 5
Season 6
Season 7
Season 8
Season 9
Season 10
Season 11
Season 12
Season 13
Season 14
Season 15
Season 18
Season 20
"Someone get my barf bags!" in D.W. and Bud's Higher Purpose.
Helen is in the same class as Prunella Deegan.
She is a fan of Henry Skreever.
She most likely met her friend Nancy at some point during kindergarten or at the Elwood City Preschool.
During her year as a third grader she was in Miss Sweetwater's class as seen in the episode Arthur and the Real Mr. Ratburn.

It was revealed however in the episode "Tipping the Scales" she was seen with Binky during last year's performance at Crown City, which means she was most likely in Mr. Ratburn's class during her third grade year along with Luke.

Until recently, Helen has never been heard speaking. However, she, Nancy, and a boy can be heard laughing at the information D.W. gave them about Arthur.
According to what Arthur said in the episode "D.W.'s Imaginary Friend" Helen is apparently D.W.'s friend. As to how or why that is the case is a complete mystery, but it can be assumed she is Arthur's friend as well and met D.W. through Arthur.
In the episode, Love Notes for Muffy she was incorrectly mistaken as a 5th grader along with some or all of her classmates.
Helen, Steve, Nancy, and Patrick were all seen in the commercial for Moon Boots. She would be seen in another commercial for the t.v. show Let's Talk to Some Kids, which took place during the episode And Now Let's Talk to Some Kids. This could mean she or her family in general maybe involved with commercials and advertising in some way.
She is a fan of Persimmony Glitchet's Horrendously Horrible Happenings books.
Gallery
[
edit
]
References
[
edit
]