The forum pages are fully operational! See this link for the latest forum topics, where users can collaborate or discuss certain topics in one place!
Arthur's Pet Follies (VHS)
From Arthur Wiki
Jump to navigation
Jump to search
This article is about the VHS. You may be looking for the DVD.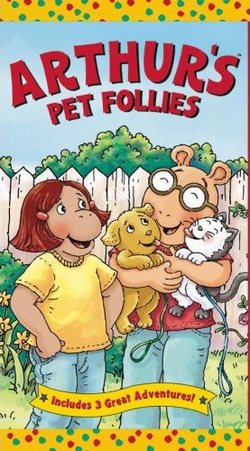 Arthur's Pet Follies is a VHS released on January 27, 2004 with a season 4 episode, a season 3 episode, and a season 1 episode. It is approximately 40 minutes long.
Episodes
[
edit
]
On the front cover, Nemo's original design that was shown exclusively in his debut in Francine and the Feline is used. Nemo's front paws on the cover are white like his current design, but his rear paws are black like his original design.
Ironically, the cover shows Arthur seeming to appreciate Nemo as he's holding both Pal and Nemo, yet he has never shown any appreciation to cats as pets in the actual episodes.